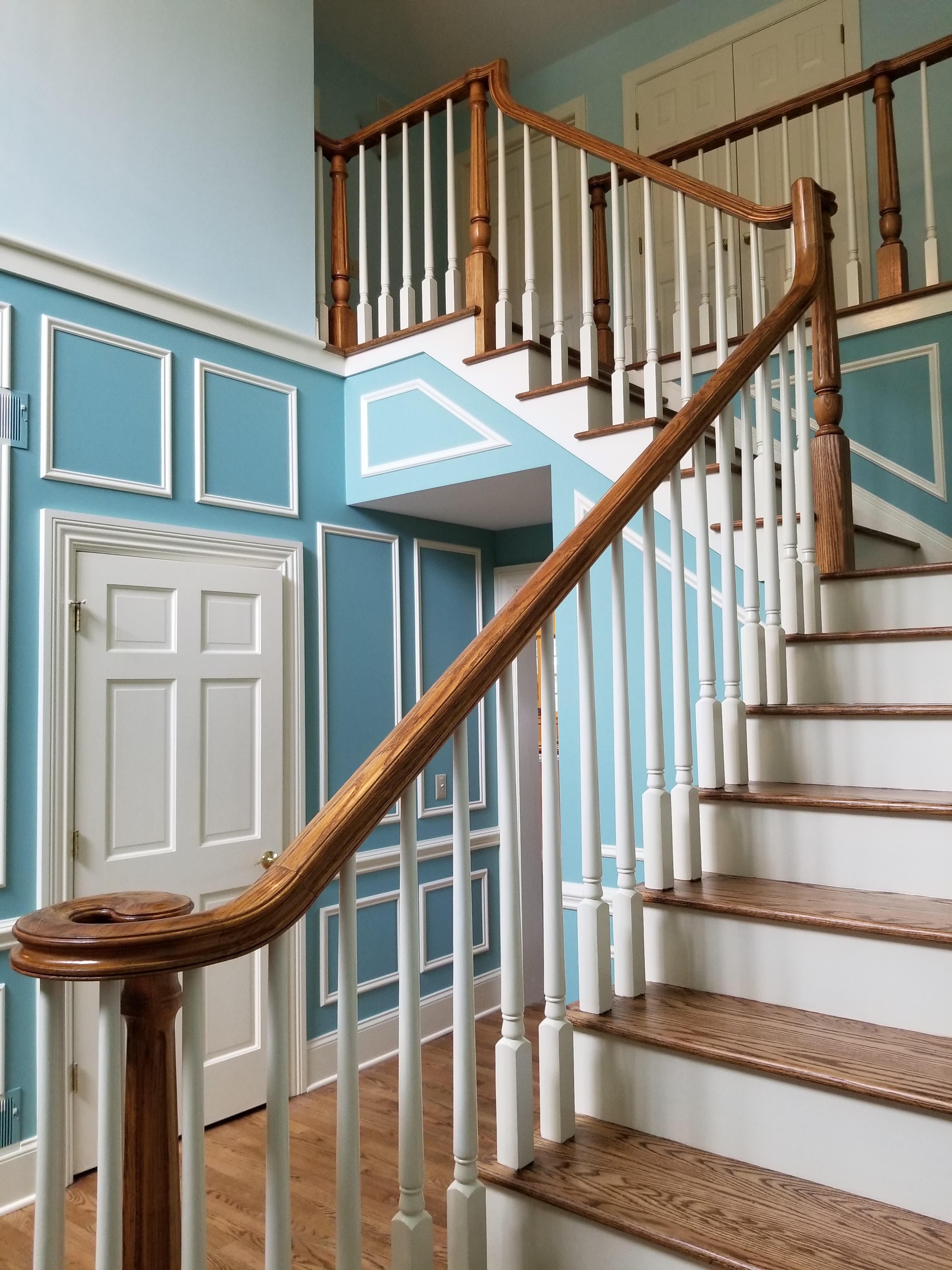 One of the services we provide, as a full-service architecture firm, is interior design and consulting. A return client came to us wanting to give their foyer a make over. They weren't looking to go overboard, they simply wanted to make their entrance foyer more inviting and add some color. We love projects like this where we can give an existing space an updated edge.
The space, as it was, worked well functionally but didn't have much character. The renovation gives new life to the entire house. The foyer connects the entrance to a formal dining room and an office on either side, kitchen and family room to the back, and has a stairway to the second floor and basement in the middle. Every space is accessed through the foyer which means it is a highly used artery of the house.
Before

After
Design
We started with a survey of the foyer and adjacent spaces. The design had to serve the existing space, without making any major changes (moving walls, eliminating doors, etc). We decided to run with the idea of bulking up the trim around the doors, windows, and baseboard, adding wall panels, a chair-rail and giving it a bold color palette. As the plans came together, we began discussing the floor and stair treads which needed to match the new wall railing, as well as the existing freestanding railing. This lead to refinishing all the floors in the front of the house, including the foyer, dining room, office, and powder room. The floors turned out beautifully, after much back and forth about the stain choice. These decisions might seem small but ultimately they make for a better overall composition considering existing finishes in other rooms and the adjacent floor.
Finished Product
All in all, this project turned out to be an enjoyable interior project with fabulous results. A new ceiling medallion, fresh paint, refinished floors, and exquisite millwork installation makes the entry foyer inviting and beautiful.
New railing, refinished stair treads

Old railing, carpeted stairs